Podebrady, Glass Factory and Kutna Hora with Ossuary
Podebrady, Kutna Hora with the Ossuary and a glass factory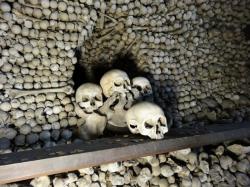 The city of Podebrady has a varied history and we visit the city center as well as the glass factory there.  Be shown how the famous Bohemia Glass is made and enjoy an included lunch.  Drive to the city of Kutna Hora and visit the famous "Kostnice", an ossuary where a chapel is decorated with the bones of 40,000 people who died during the many wars dating back from the 14th to the 17th century.  
Departures: Thursdays at 9:15 (9:15 am)     
Duration: approximately 8 hours
Cost: EUR 54 per person (CZK 1,390)
The tours are priced in CZK so the EUR price may vary according to the daily exchange rate.
A pick up at your hotel in Prague is available for 2 or more people. 
Should you prefer a more personal approach, please return to our Private Tour Menu.  Thank you!